Bitcoin Deposit and Withdrawal Guide for Winz.io

Winz.io is a Bitcoin Casino that has been operational since 2019. This Curacao licensed gaming platform has proven to be a quite desirable place for online gamblers. It not only offers a huge amount of games and bonus offers, but it is a platform that accepts Bitcoin and many other cryptocurrencies.
Winz bitcoin guide – How to deposit with Bitcoins
In this guide, we are going to explain how easy it is to deposit and withdraw money from Winz.io. We will show you the exact step-by-step process, and make an actual deposit to the Casino so that you can see. After that, we will withdraw the money and show you how quick the withdrawals are. Without further ado, let's get straight to it.
What to Do Before Depositing Money
Before depositing any money to Winz.io, it is important to read the site's Terms & Conditions. Even though this Bitcoin Casino is a global platform, certain jurisdictions, and its players are restricted from playing at the Casino. To save you some time, some of the restricted countries include The United States, Spain, The United Kingdom, France, and Israel.


When you have determined that you are eligible to play at Winz, go ahead and register your account. Enter https://winz.io/ in your browser and click on the green "SIGN UP" button at the top. Enter an email address and a strong password, select Bitcoin as your preferred currency, tick the two boxes to receive email notifications and accept the T&C, and hit the "SIGN UP" button at the bottom.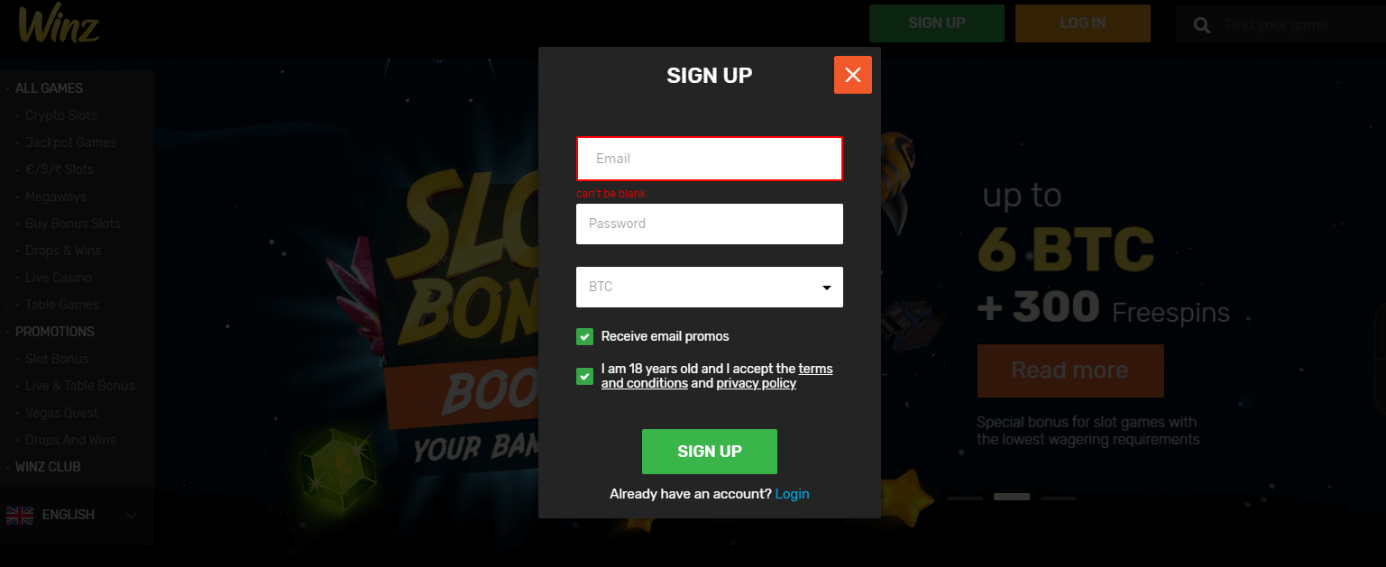 Congratulations! You are now part of the Winz community. Now you need to click on the "LOG IN" button and enter the login credentials that you registered in the previous step.
How to Deposit with Bitcoins on Winz
Now that you are logged in and ready to go, you will notice a green "DEPOSIT" button in place of the "SIGN UP" and "LOG IN" buttons. This is the quickest and preferred way to deposit funds into your account. Go ahead and click on the button.
Alternatively, you can take another route. At the top of the page, click on your email address for a drop-down menu to appear. Click on "Wallet" and you will be taken to the Balance section of your Winz account. You now have a complete overview of all your balances. You can add new currencies, deposit money, or cash out your funds by clicking on the corresponding buttons on the right.
But let us do it the quicker way and click on the big "DEPOSIT" button on the homepage of Winz.io. After you have clicked on the button, a new deposit window will pop up. The first thing to do is to make sure that BTC is selected as the deposit currency in the "CURRENCY" field on the left.
In case another currency is selected, click on the downward pointing arrow and find BTC. If for some reason Bitcoin is missing, you have the option to add it manually. Click on the "+" button next to the "CURRENCY" field. In the new window that just appeared, find BTC on the list and click on its corresponding "ADD CURRENCY" button. You can always add new or delete the currencies that you don't need by clicking on the "X" in the box of the currency that you want to delete.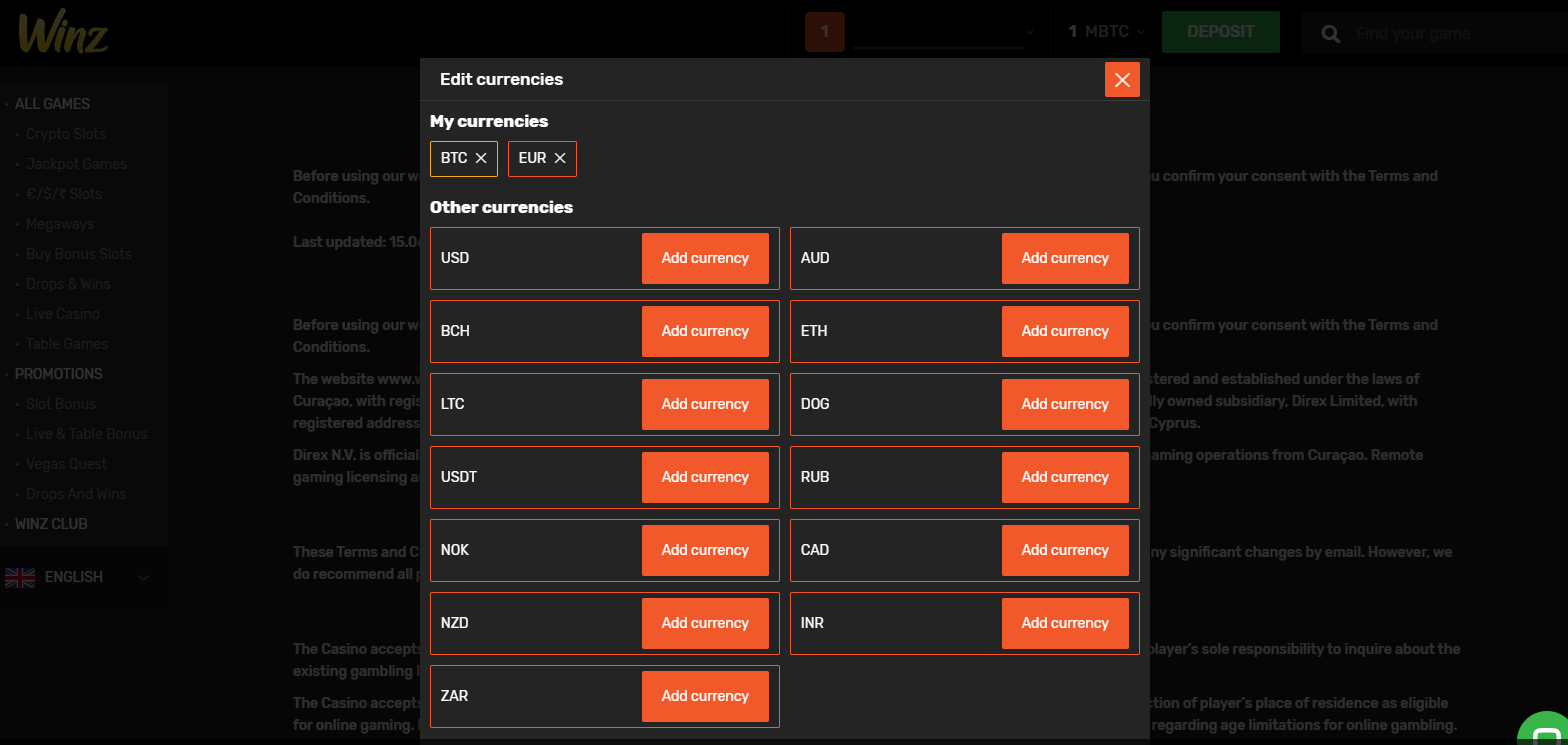 After you have made sure that BTC is properly selected, it is time to shift your focus to the right side of the deposit window. This is where your deposit address is located. The players have two ways to copy their deposit address:
Scanning the provided QR code
Clicking on the "COPY ADDRESS" button
I am going to use the "COPY ADDRESS" button this time. Once you have copied and pasted your address, always make sure that the two addresses match and are identical. Compare it character by character. The minimum Bitcoin deposit that you can make on the Casino is 0.0001 BTC. Don't send less than that to avoid unnecessary complications. There is no maximum limit.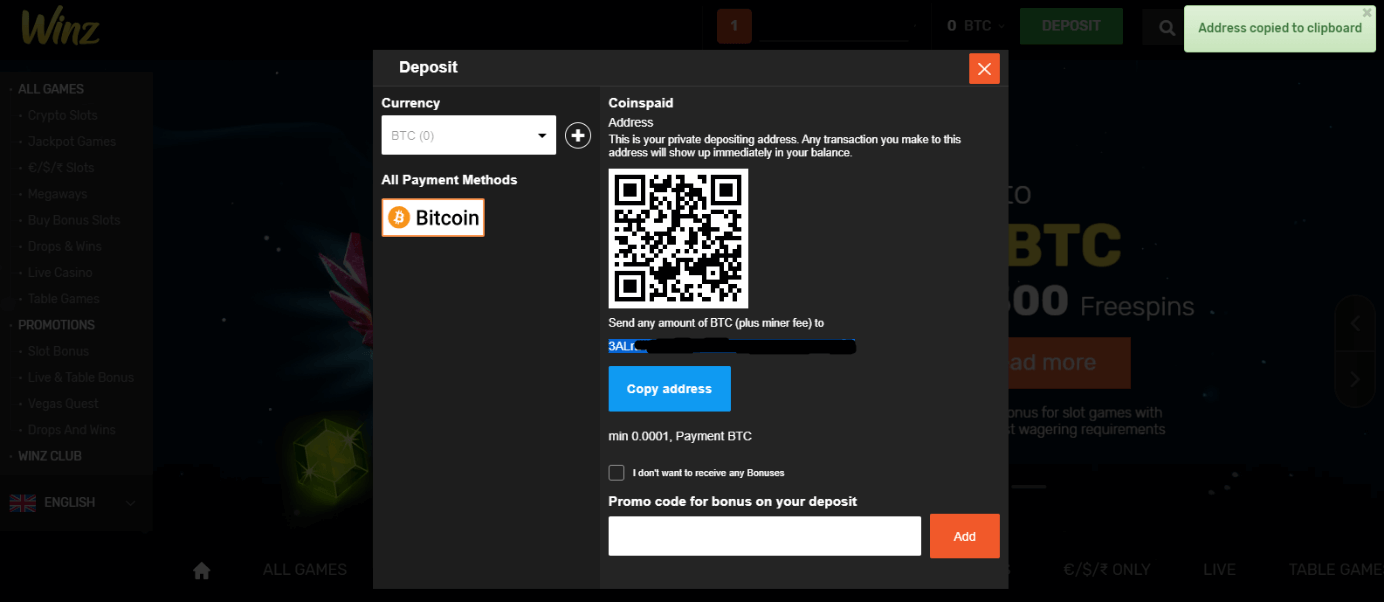 The last step of the deposit process is to enter the bonus code of the bonus offer that you intend to take advantage of. It needs to be entered in the empty field that reads: 'Promo code for bonus on your deposit'.
Winz.io has introduced separate Slot Bonuses and Live & Table Games Bonuses for all new players. The bonus codes can be found on the website by clicking on the corresponding bonus offer under the PROMOTIONS tab. Since this offer is only available to new players, and this is not the first time that we are depositing money on Winz, we are going to tick the 'I don't want to receive any Bonuses box' before we proceed.
Now is the time to fund your Winz.io account. Paste the copied address into the private wallet or exchange that you use, and send the Bitcoins. Depending on the fees you used and the current state of the mempool, your transaction will be confirmed once it has been included in a block. Once it's mined, you will notice that your Bitcoin balance has been updated.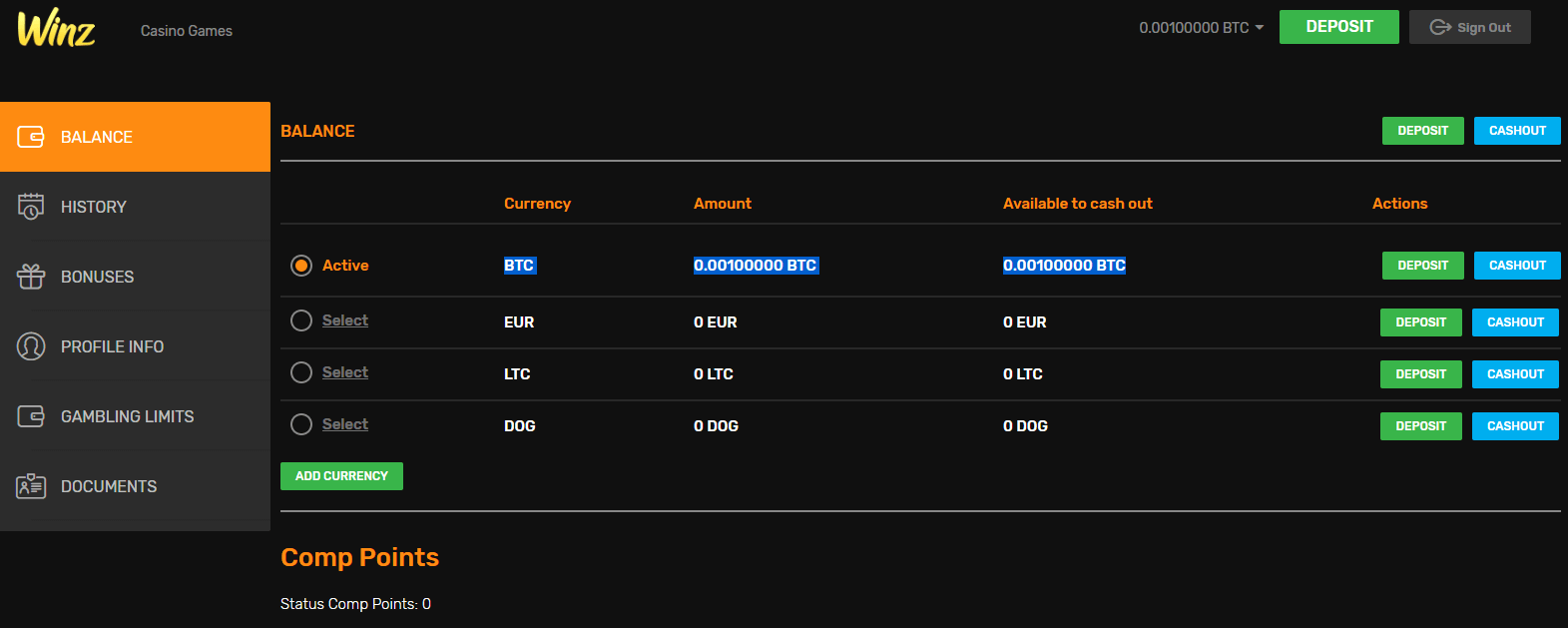 In our case, the Bitcoin deposit got credited to our account after 2 confirmations on the blockchain. Winz.io sends email notifications to inform its customers about the status of their deposits. As soon as our deposit was processed, we received an email notifying us about it. You have now successfully deposited Bitcoin to your Winz.io account.
How to Withdraw Bitcoins from Winz
When you are ready to withdraw money from your account, click on your email address on the homepage and click on "WALLET". You will be directed to the profile section of your account. There you will see all your balances and the available funds that you can cash out.
Click on the blue "CASHOUT" button next to Bitcoin. Make sure BTC is ticked as your selected payment method by clicking on the green "BTC" box. Enter the amount you wish to withdraw and copy/paste your withdrawal address to the correct field. Winz supports withdrawals to Native Segwit/Bech32 addresses (starting with bc1). This is a welcoming addition because many Bitcoin Casinos still don't offer Native Segwit support.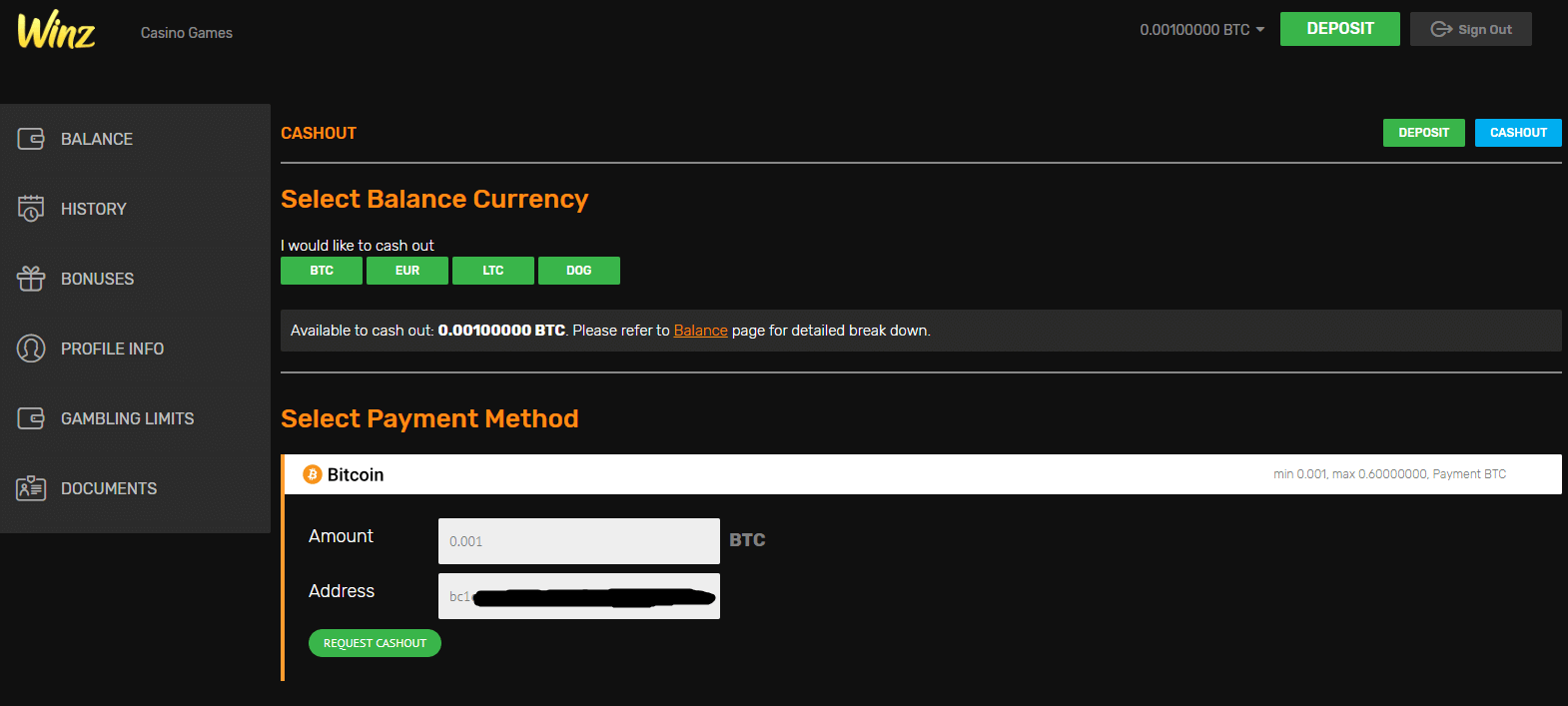 Winz has set a 0.001 BTC as a minimum amount that can be withdrawn. The maximum limit is 0.6 BTC. Before proceeding, double-check that the entered BTC address is correct, and corresponds to the one generated by your private wallet where the Bitcoin is headed to.
When you are ready, hit the "REQUEST CASHOUT" button to send a withdrawal request to our Finance Department. As soon as you do that, you will be redirected to the HISTORY page of your account, where you will notice that the requested withdrawal status is "PENDING".
Before our withdrawal could be processed, we had to confirm our receiving address by email. This is a standard security check implemented by Winz Bitcoin Casino when players are requesting cashouts to never before used addresses.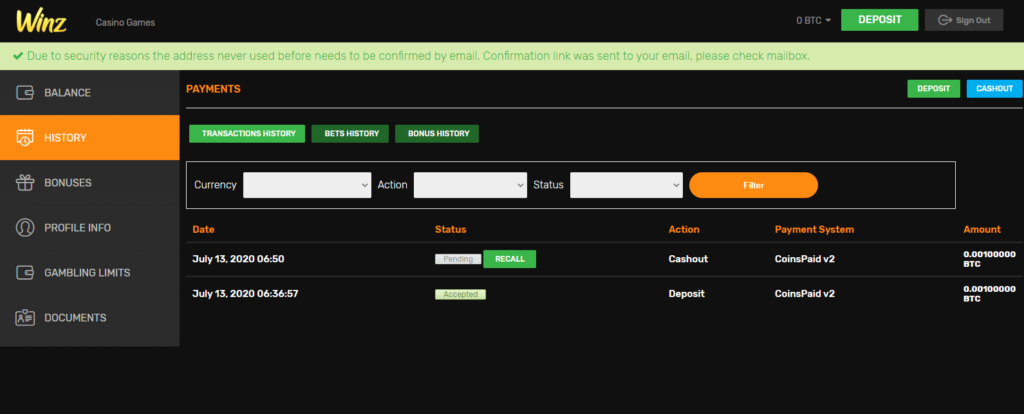 After we clicked on the link sent via email, our withdrawal request was processed within a couple of minutes, free of charge. All withdrawals on Winz.io are processed in a fast and timely manner, and the Casino doesn't charge its players with any withdrawal fees! Notice that the withdrawal status has now been changed to "ACCEPTED" in the transaction's history.


Read Winz.io review here.  Play here. More bitcoin casinos here