What can possibly "King's Miners" mine? Let us open our dusty textbooks on royal lore, go to the entry "Westeros", sub entries "Khaleesi and her Dothraki", "that bitch Queen in the capital" and "the cool King of the North" and look it up – aaah, here we have it. Gold. Diamonds. Pearls. Coals when dragons are too bored to heat the palace.
Ehm, no, no, no and no.
Enter King Billy, First of His Name, Rightful Ruler of the Kingdom, Guardian of the Realm, Supreme Commander of the Royal Forces and Protector of the Players (we need to towel off, only by saying this title). Moreover, he is the representative of the many times awarded King Billy Casino, an operator who has been making a lot of heads in the gaming industry turn – and for good reason.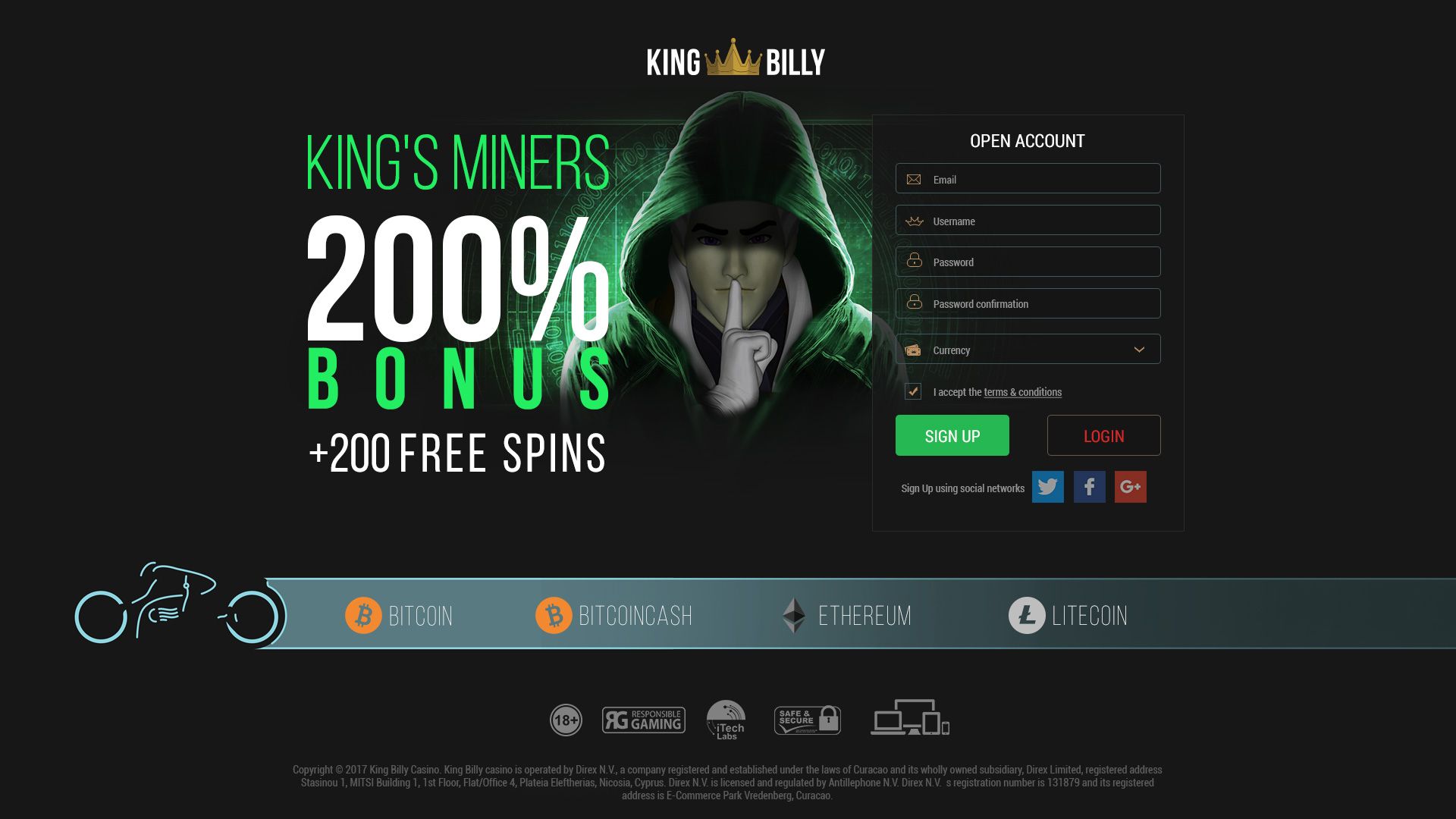 It's a promotion after all!
So, it turns out that the "King's Miners" is an aptly named promotion for Bitcoin players in King Billy Casino. Oh, don't you love it when casinos Creative Directors become creative? (hint: they seldom do). So, let's see what's in it for us, crypto aficionados.
King's Miners is a weekly reload for "cryptistas" like you and me. The fact that it is a reload bonus is a definite plus, since "reloading" has been the crypto players middle name since time immemorial. Kings' Miners demands of you a single deposit of 50mBTC (or equivalent). By doing this, you are entitled to:
51% Bonus, up to 51 mBTC / 510 mBCH / 510 mETH / 5100 mLTC
Available cryptocurrencies: BTC, ETH, BCH, LTC.
Thank you, your Majesty, we think we'll reload.
Wait, there's more!
Oops, we started the other way around on this – shouldn't we speak about the King Billy Welcome Offer first? Well, we admit we were carried away by that awesome "King's Miners" promotion title. But the Welcome Pack is not too bad either (someone is getting weirdly creative at King Billy Casino). It is called…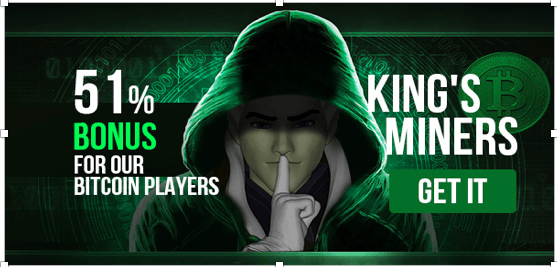 …The Big 4
Nice name King! The Big 4, the big bucks, the big Kahuna, the Big Bang you know, in case you need a copywriter, we're right here. So, what does the Big 4 bring to crypto players? In a nutshell, 200% bonus, up to 5 BTC + 200 Free Spins. This is divided into 4 consecutive bonuses which work like this:
1. 100% bonus up to 1 BTC + 200 Free Spins (20 Free Spins daily)
2. 50% bonus up to 1 BTC (Bonus code WELCOME2)
3. 25% bonus up to 1.5 BTC (Bonus code WELCOME3)
4. 25% bonus up to 1.5 BTC (Bonus code WELCOME4)
There's more to this King than meets the eye
King Billy is not only passing the crypto test. We also put him under the necessary "stress tests" all French Canadian bitcoin casino players would demand and his Majesty has passed with flying colors in every single one of them.
Interac payment method? Check.
iDebit? Check.
InstaDebit? Check.
Neosurf? Check.
King of the World
Add to the above some more facts. For starters, you must experience the legendary, even by the King's standards King Billy Support, where the "King's Servants" shower you with "my lord" and "my lady" (and also take care of your query immediately). In fact, addressing the players in medieval terns is so endearing to some of them, that there has even been some Live Chat abuse. Oh dear.
And what about the VIP program? It is a nice ladder made up of several "nobility titles" (and accurately so!). You start your life in the King Billy Kingdom, as a mere Citizen. By playing and having fun, you soon leave the proletariat behind and become a Baron, Duke, Prince and finally King yourself, sitting right next to King Billy.
Finally, if one adds the abundance of games which will make every crypto lover smile, the well thought promotions and tournaments and, last but not least, the King Billy blog (which is informative and hilarious and even has an article about Canadians!) one knows why this King feels like King of the World for the casino people and their players. Play long and prosper folks!
Read KingBilly Casino Review here