Forget about the images you see of cryptocurrency illustrations as physical coins or notes. All cryptocurrencies are digital and to own any, you will most likely interact with a cryptocurrency exchange platform. The crypto market is flooded with many exchanges, each with its unique offering to a diverse crypto market demand.
As with many competitive markets, some exchanges offer better services overall. Let's review Canada's dedicated no-fee crypto exchange, Newton Exchange, and see where it ranks among others.
An Overview on Newton Exchange
Newton is a proudly Canadian crypto exchange named after famous English mathematician Sir Isaac Newton. The exchange launched on the Canadian crypto market in late 2018, making it a relatively new exchange. As of February 2021, Newton had over 100,000 users making it one of the fastest-growing cryptocurrency trading platforms. Currently, Newton serves users in Canada, where the exchange holds various compliance licenses to legally operate.
Newton features an intuitive user interface with a responsive design to offer an excellent user experience (UX) for traders. Newton is constantly adding new features to the platform to respond to its customers' needs. Also, its list of supported coins continues to grow, further widening the exchange's market reach.
Features of the Newton Exchange
No Fees
Newton's top feature is its zero-fees on trades. Among the most sought-after services on crypto platforms are low trading fees, which are hard to come by. Most centralized exchanges in Canada and around the world charge highly for their intermediary services. While one may opt for a decentralized exchange, these often come with massive gas fees. Newton goes beyond lowering the trading fees to eliminate the fees altogether.
Released as Canada's first no-fee crypto exchange platform in 2019, Newton remains committed to its model to date. Unlike other exchanges that operate order books, Newton does not impose any fees on makers or takers of orders. Elimination of fees incentivizes users to create more orders hence increase the exchange's liquidity. Instead of maker-taker fees, traders will pay the spreads on trade orders, which are the differences between the quoted buy and sell prices for the cryptocurrencies. These spreads are averagely between 0.50% and 0.75%.
Additionally, Newton covers up to CAD 5 fees for transferring crypto to and from your wallet. With these features, Newton offers the most competitive prices to Canada's bustling crypto market, up to three times better than other exchanges.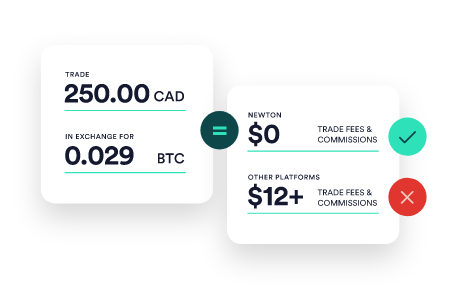 Multiple Platform Support
Newton offers its trading features for both mobile and desktop devices. While most traders will use desktop platforms, mobile devices offer additional convenience for on-the-go trading activities. This convenience is especially important in these highly volatile crypto markets that present traders with split-second moments turning trades into huge profits.
Newton's mobile platforms are optimized to leverage the mobile devices' capabilities. Apart from a web-based mobile platform, Newton offers apps on both iOS App Store and Android's Play Store that users in Canada can download and start trading. Regardless of your preferences, Newton provides an accessible and low-cost cryptocurrency brokerage. Across all platforms, the exchange incorporates its key features to ensure traders get the best UX when shifting from one platform to another.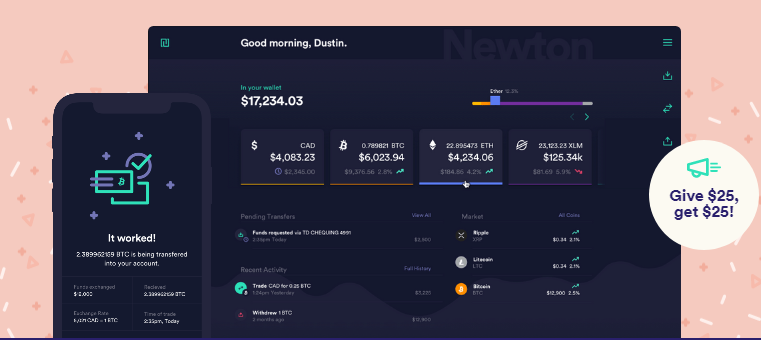 Compliance
Despite the limited regulation in crypto markets, Canada's always been ahead of other countries in North America by putting guidelines to enhance clarity in this emerging technology's operations. Newton handles users' data, especially when creating a crypto exchange account on the platform.
According to Canada's Personal Information Protection and Electronic Documents Act (PIPEDA), Newton is obliged to safeguard your data and allow you to control the data that you provide the exchange.
Newton is compliant with existing regulations within Canada, which touch its business operations. Currently, Newton is PIPEDA-compliant and ensures that all customer data is stored in servers within Canada. Since crypto goes hand-in-hand with tech, most Canadian crypto traders also watch out for exchanges that are compliant with the latest legislation and regulations through which they will safely trade.
Supports Top Coins
Newton lists top cryptocurrencies in the market which users like to trade. These include Bitcoin (BTC), Ethereum (ETH), Litecoin (LTC), Bitcoin Cash (BCH), Stellar Lumens (XLM), Monero (XMR), and Ripple (XRP). Also, the exchange supports multiple stablecoins backed by CAD and USD. These include USD Coin (USDC), Tether, and QCAD.
Newton's listing is packed with A-list cryptocurrencies, which are among the most traded digital currencies in the market with a combined market cap of at least CAD 1.5 trillion. The exchange targets the high-volume crypto markets, offering them an ultra-low-cost alternative that aims to speed up the adoption of crypto among Canadians. Although the exchange lacks many other coins, especially those with low market caps, it is continually adding to its list of supported coins.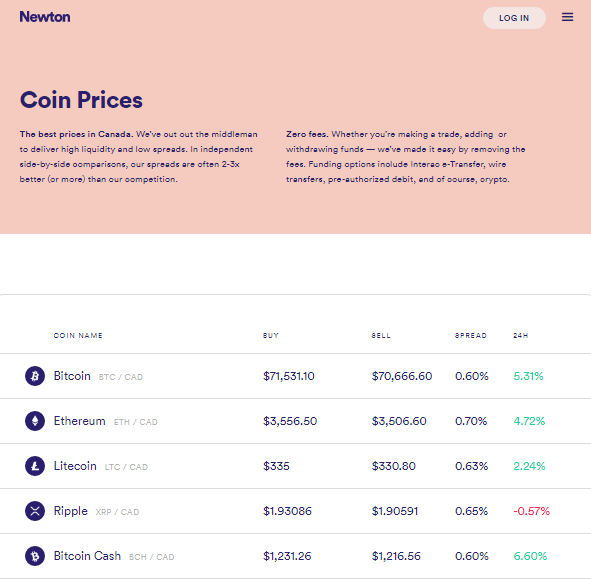 Security
Centralized exchanges, like Newton, are frequently targeted by threat actors. Successful cyberattacks could result in losses up to billions of dollars and these constant exposures and vulnerabilities have made Newton invest in securing the platform. The exchange is always on the lookout, proactively dealing with potential attacks that would breach its network security. The self-described paranoid exchange ensures that the majority of its crypto is stored in secure offline wallets where attacks are least likely to be executed and most likely to fail.
Moreover, Newton conducts daily off-site backups and deploys direct integration with banks to enforce compliance with anti-money laundering (AML) policies and limit fraud. Newton further ensures that users' funds are securely kept transparently and independently through multi-signature wallets which require multiple private keys to sign and send a transaction. This prevents possible risks associated with storing user funds in one wallet like in the case of the QuadrigaCX crypto exchange which collapsed. What's more, you can opt to either keep your funds with Newton's wallet or transfer them.
Customer Support
Newton is active online and quickly responds to users' inquiries. The exchange has an official support email through which Canadian users can seek assistance with any difficulties they face on the platform. Customer support responds to complaints through its multiple social media platforms directs the users to the official support channels where they register their complaints and get ticket numbers to track the resolution progress. This helps ensure that each reported incident is resolved satisfactorily, further enhancing UX on the crypto exchange platform.
Seamless Wallet Interactions
Setting up an account with Newton is simple, and verification takes just about five minutes. To get started, you need to read the Privacy Policy, Terms, and Conditions. After accepting the terms, you will proceed to fill the sign-up form. Afterward, you will complete the KYC requirements for verification then add funds to your wallet using fiat or cryptocurrency.
Newton simplifies fund transfers for Canadians by integrating Interac® e-Transfers, wire transfers, and direct bank connections. Newton partners with PLAID, a Canadian security firm, for its KYC infrastructure. The exchange platform also supports and encourages users to set up two-factor authentication (2FA) to add another layer of security for their wallets. All these features are available for both mobile and desktop platforms of the exchange.
Frequently Asked Questions (FAQs) on Newton Exchange
Are There Any Hidden Charges Imposed by Newton Exchange?
There are no fees charged on traders' maker-taker orders. However, Newton earns by incorporating a fee in the asking prices of crypto, through spreads.
Is Newton Exchange Secure?
Newton has had no major incidents reported so far. The exchange integrates the fintech industry-leading PLAID for customers to deposit funds into their wallets. With such reputable Canadian partners, Newton demonstrates its dedication to security.
Will Newton Exchange Add New Coins?
Newton is rapidly growing, and as new users join, there'll be demand for more coins. The exchange has been gradually listing new tokens to meet the market demand.
What Are the Official Communication Channels for Newton?
You can follow these links for Newton's official channels: support email, Twitter, LinkedIn, Instagram, Medium, and YouTube.
Can I Access My Account on Multiple Devices?
Yes, you can. Setting up 2FA will help secure your account, allowing you to securely sign in to your account on more than one device. For instance, you may sign in to your account on your PC or smartphone.
Summary
Newton Exchange offers many advantages to traders including, rewards for referrals. You and your friend can each earn CAD 25 when your friend uses your referral link to sign up and trade over CAD 100 worth of crypto. Remember, the exchange's operations are limited to Canadian users only.
Pros
No Fees
Fast and seamless funds transfer
Compliance with Canada's privacy regulations
Secure offline crypto asset storage (cold storage and 2FA)
Simple and beginner-friendly
Effective Customer Support
Unique and functional design available across desktop and mobile devices
Fast account verification
Cons
Fewer listed coins compared to competitors like Binance, Crypto.com or Coinbase
Comparably lower trading volume
Imposes daily transfer limits
? Did you know?
Newton Exchange's name was inspired by Sir Isaac Newton's lesser-known role in stamping out counterfeit money while working as the Master of the Royal Mint. The exchange draws inspiration from Newton's role to develop a transparent and democratic financial system.