One cannot deny the growing popularity of cryptocurrencies nowadays. Digital currencies are anonymous and independent from banks and government. Bitcoin wallet allows you to send, receive and store bitcoins.
There are many ways of setting up a bitcoin wallet. You can either upload a software wallet for Windows, Mac and Linux or install mobile applications available for Android, iOS, Windows Phone and Blackberry. You can also create a web wallet. I believe it is the easiest way.
I will tell you about the existing bitcoin wallets and explain how to create one.
Desktop wallets: Bitcoin Core, Bitcoin Knots, Electrum, mSIGNA, Bither, MultiBit HD, Armory, Green Address, ArcBit, Copay and BitGo.
Mobile wallets:
Android: breadwallet, Bither, GreenBits, Mycelium, Green Address, Coinomi, Coin.Space, Simple Bitcoin, Electrum, Bitcoin Wallet, ArcBit, BTC.com.
iOS: breadwallet, Bither, Green Address, Coin.Space, ArcBit, BTC.com, Copay, Airbitz.
Windows Phone: Copay, Coin.Space.
Blackberry: Bitcoin Wallet.
Online Wallets: Blockchain, Coin.Space, Coinapult, Coinbase, Xapo, BTC.com, BitGo, Green Address.
When it comes to money it is needless to say, that security is above all. It should be noted that when you use a web wallet your private keys are stored online on a server. So, it's important to choose the right website.
I made a choice for Blockchain because it is one of the most trustworthy websites where you can securely store your money. Blockchain is recognized worldwide. You can be sure that your money is protected. Blockchain has simple design and it is perfectly suitable for beginners. You can access your wallet from desktop, iOS or Android anytime and anywhere. Blockchain is global and it supports more than 20 currency conversion rates.
This is a step by step guide of creating a blockchain wallet.
STEP 1
Open blockchain.info website. Now you need to setup a new bitcoin wallet. Click the "Create your wallet" button.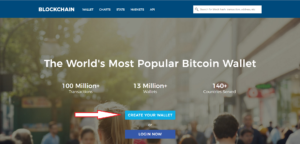 STEP 2
There appears a registration form. You should fill it in. It asks for your email and password. Try to create a strong password with numbers and letters to make it safer. Your password should consist of at least 10 symbols. After this, click the "Continue" button.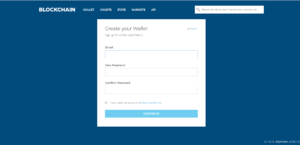 STEP 3
Now you should confirm your email. Go to your email inbox and find an email from blockchain. Click on "Yes, This Is My Email" button.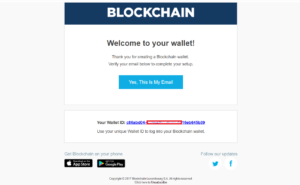 STEP 4
After verification of your email you should go to the website and click the "Log in" button. Your wallet ID will be already in. Now you should enter the password.